Overview of WHA Group's Businesses in 2021
In 2021, WHA Corporation Public Company Limited aimed to improve services for its customers with a goal for customers in every business group to receive good and quality services and to ensure the highest efficiency in its logistics, industrial estate, public utility and energy, and digital businesses.
In 2022, WHA Group remains committed to providing the best for its customers by seeing signs of economic recovery that support higher international trades, Thai exports, and foreign direct investments.
#WHA #WHAGROUP #WHALOGISTICS #EEC #BUILTTOSUITFACTORY #ECOMMERCEPARK #RBF #READYBUILTFACTORY #FACTORYFORRENT #BANGNATRAD #CHACHOENGSAO #CHONBURI #RAYONG #VIETNAM #WHADIGITAL #DIGITALPLATFORM
=============================
Website:www.wha-group.com
Facebook :www.facebook.com/whagroup
Twitter :www.twitter.com/GroupWha
LinkedIn:https://lnkd.in/ghbKpFN
Youtube:https://www.youtube.com/TheWHAGroup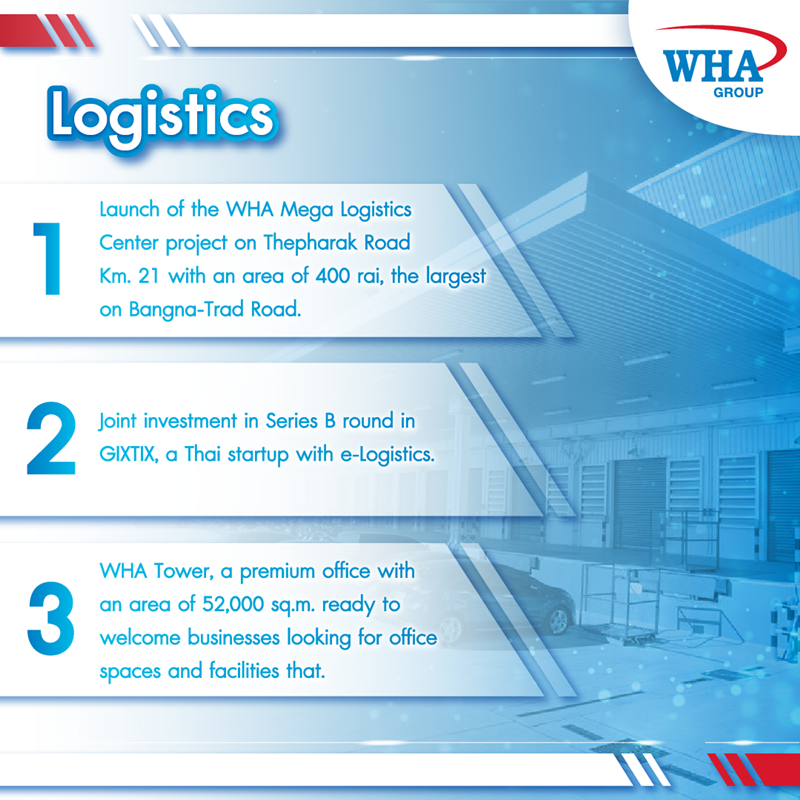 Logistics
Launch of the WHA Mega Logistics Center project on Thepharak Road Km. 21 with an area of 400 rai, the largest on Bangna-Trad Road.
Joint investment in Series B round in GIXTIX, a Thai startup with e-Logistics.
WHA Tower, a premium office with an area of 52,000 sq.m. ready to welcome businesses looking for office spaces and facilities that
https://www.wha-logistics.com/th/properties/grid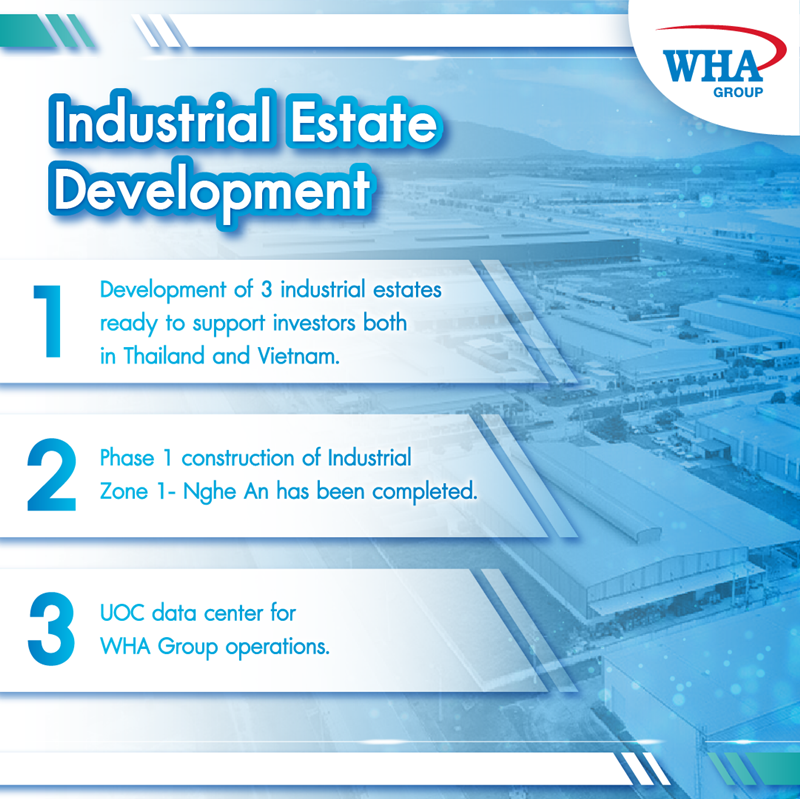 Industrial Estate Development
Development of 3 industrial estates ready to support investors both in Thailand and Vietnam.
Phase 1 construction of Industrial Zone 1- Nghe An has been completed.
UOC data center for WHA Group operations
https://www.wha-industrialestate.com/en/projects/industrial-estates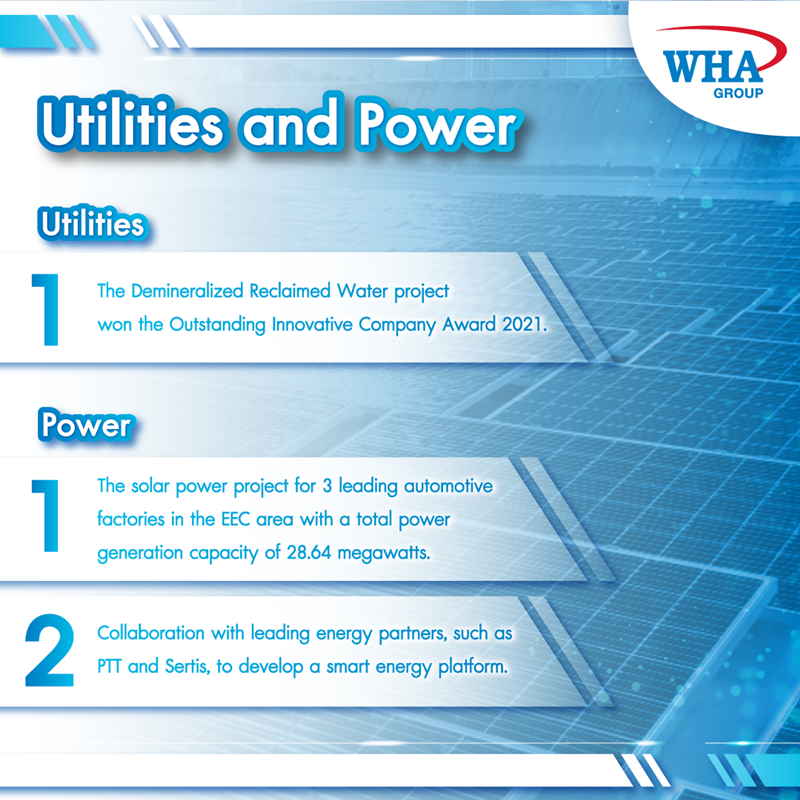 Utility and Power
Utilities
The Demineralized Reclaimed Water project won the Outstanding Innovative Company Award 2021.
Power
The solar power project for 3 leading automotive factories in the EEC area with a total power generation capacity of 28.64 megawatts.
Collaboration with leading energy partners, such as PTT and Sertis, to develop a smart energy platform.
https://www.wha-up.com/en/products-and-services/power/conventional-power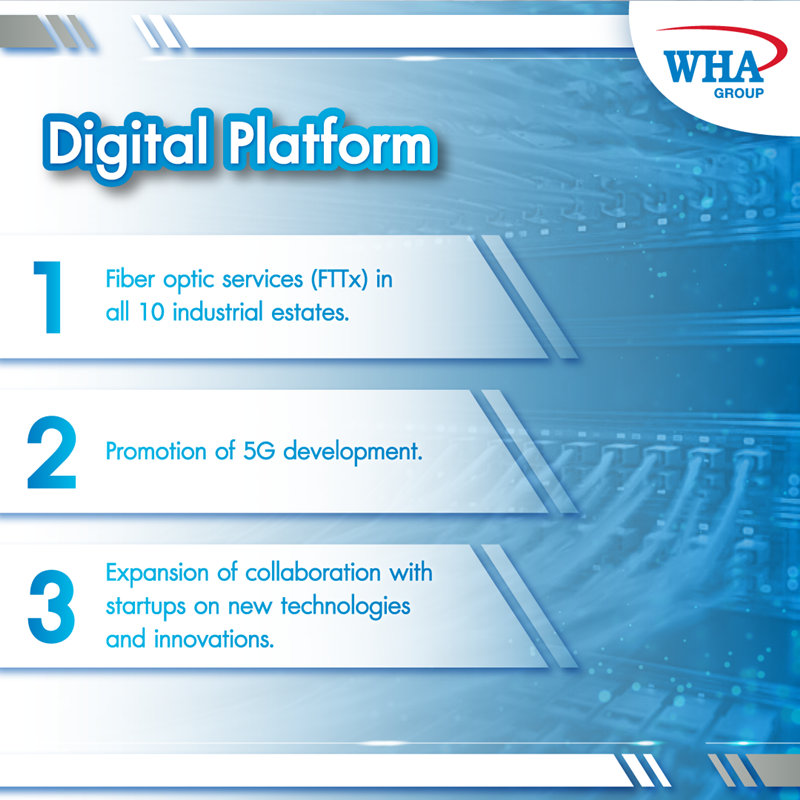 Digital Platform Hub
Fiber optic services (FTTx) in all 10 industrial estates.
Promotion of 5G development.
Expansion of collaboration with startups on new technologies and innovations.
https://www.wha-digital.com/fttx/