Ready-built General Warehouses for Rent and the 'Warehouse Farm' Concept in Thailand
General information
Apart from our built-to-suit facilities and warehouses, WHA Logistics recognizes the demand for premium quality ready-built warehouses for rent, referred to as the 'General Warehouse', to rent. We have also developed the 'Warehouse Farm' project, named the WHA Mega Logistics Center, since 2010. In order to accommodate high demand for immediate storage space, as well as to support any overflow operations of built-to-suit clients during the peak season.
This Warehouse Farm concept consists of a number of high-standard ready-built warehouses for rent developed in selected strategic locations for logistics and distribution across the country. Some minor adjustments to the warehouse are allowed and enables clients to use a facility best fitted to their operations.
With the success of this Warehouse Farm concept in the market, there are currently about 10 WHA Mega Logistics Centers in various strategic logistics locations in Thailand today, including Bangna, Chonburi, Saraburi, and Ayutthaya.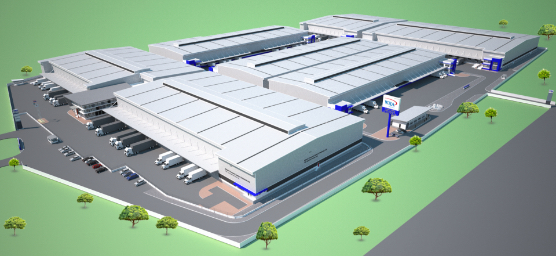 Infrastructure and Facility
WHA Logistics provides premium facilities which are the best in the market, with high standard specifications in the selected strategic locations for logistics and distribution, with some degree of flexibility for minor adjustments alongside our consulting and design. This type of facility allows client to move in immediately as overflow activities occur.
Service for General Warehouses and Warehouse Farms
Apart from the premium quality of facilities that WHA Logistics provides for clients, our premium after-sales service is also one of our key success factors that leads WHA to a 100% occupancy rate and highest client satisfaction for over 10 years. WHA Logistics Operation and Maintenance (OM) Team will provide the premium on-site services, responding quickly to ensure the least disturbance to our customer's operational activities.