WHA MEGA LOGISTICS CENTER THEPARAK KM. 21
WHA MEGA LOGISTICS CENTER THEPARAK KM. 21
THE MOST EXTENSIVE INDUSTRIAL PLOT LOCATED ON BANGNA-TRAD AND GATEWAY TO THE EEC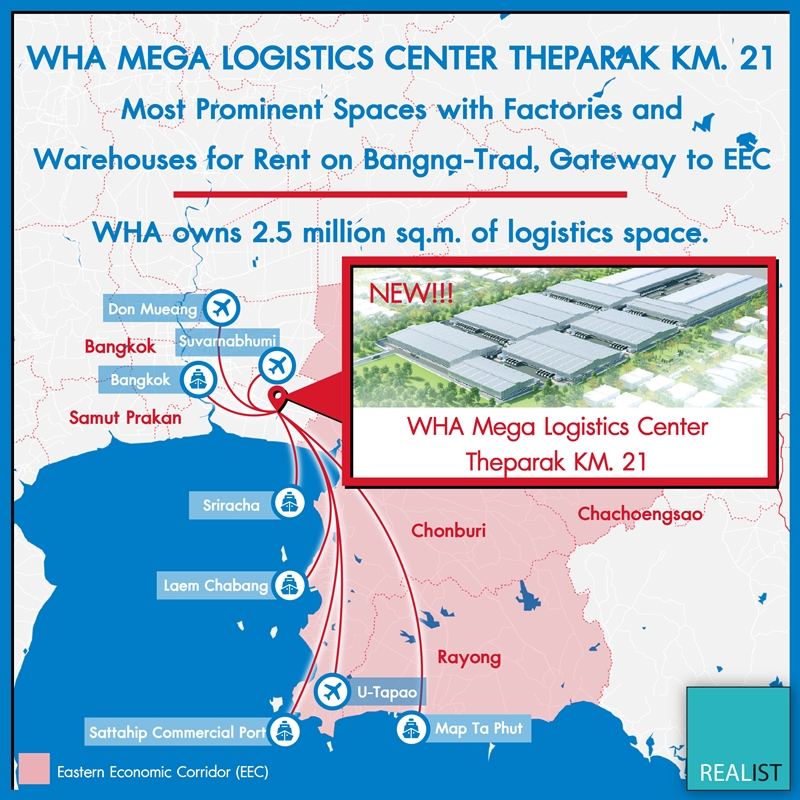 WHA Group is the leader in fully-integrated logistics solutions. Its industrial facilities are top-class, in prime logistics locations, and with dedicated services. Supported by a full range of services on offer, WHA Group comprises four core businesses: logistics, industrial estate development, utilities and power, and digital platform. WHA Logistics is one of the businesses of WHA Group focused on logistics, and it's considered Thailand's leader in developing factories and warehouses.
WHA Logistics is a leader in factories and warehouses with over 18 years of experience. It has projects in 50 strategic locations covering more than 2.5 million sq.m., under the management of WHA Group, and more than 200 leading customers. The company continues to develop by launching a new project, WHA Mega Logistics Center Theparak KM. 21.
WHA Mega Logistics Center Theparak KM. 21 has up to 400 rai (64 hectares) of space to offer, the largest on the strategic location of Bangna-Trad. This location connects to many routes. Importantly, it is close to Bangkok and the Eastern Economic Corridor (EEC) area, which is the logistics center of the Thai economy. Bangna-Trad is also a high potential location in terms of transportation. It connects to Don Mueang Airport, Suvarnabhumi Airport, and Bangkok Port (also known as Khlong Toei Port) to the EEC area. It is also near the high-speed rail line connecting three airports, making it possible to quickly transport goods and reduce transportation costs. In addition, the project is ready to support new smart logistics (see below for more details).
Who is WHA Logistics?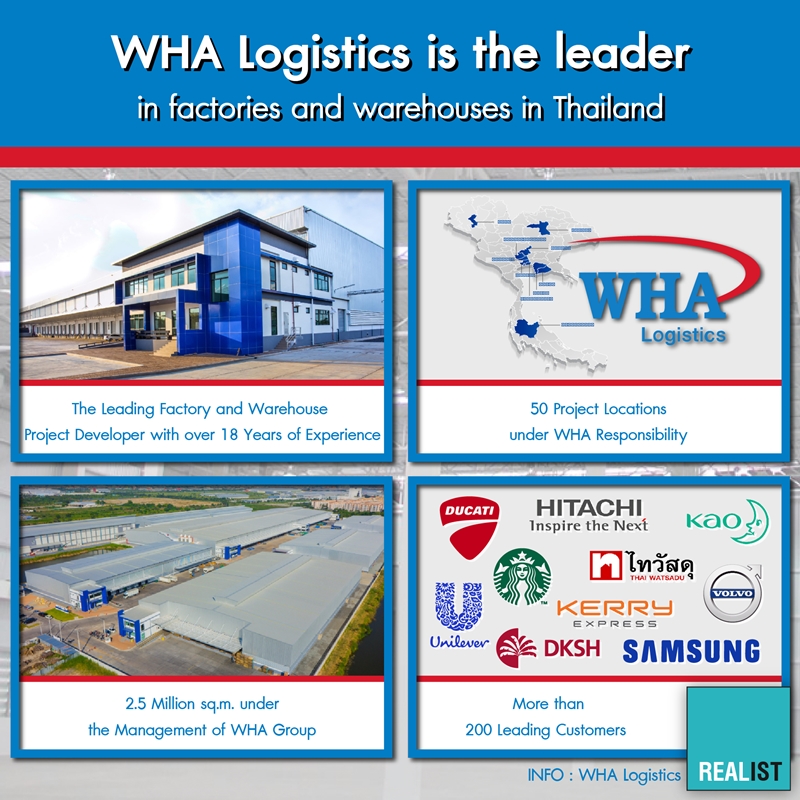 WHA Logistics is one of WHA Group's businesses with an essential role in logistics in Thailand.
Over 18 years of experience in factory and warehouse development.
Up to 50 strategic locations of factory and warehouse projects under 'WHA's responsibility.
More than 2.5 million sq.m. under the management of WHA Group.
More than 200 leading Thai and international customers.
As a result, WHA Logistics is considered Thailand's key leader in factory and warehouse facilities.
The Average Annual Growth Rate of Factory and Warehouse Areas is 24.9%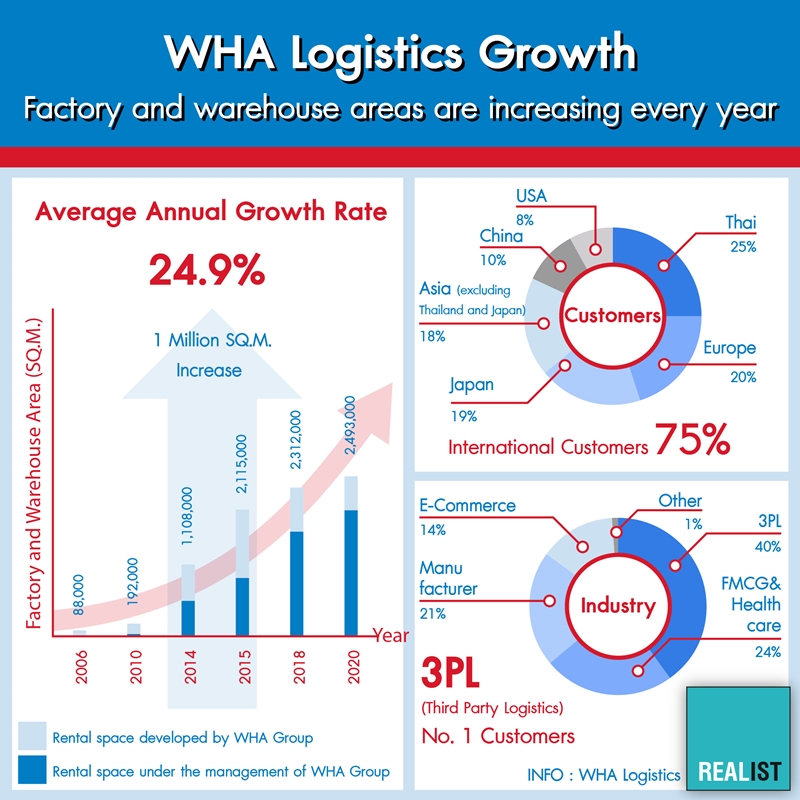 WHA Logistics continues to grow. As seen in the graph, the factory and warehouse space in 2006 was more than 88,000 sq.m. However, in 2020, the space increased to more than 2,493,000 sq.m. Within 14 years, it has expanded by more than 2.4 million sq.m. The factory and warehouse space growth rate between 2006–2020 averaged 24.9% per year. In 2015, factory and warehouse space grew by more than a million sq.m.
WHA Logistics' customers are Thai and international companies investing in Thailand. WHA Logistics has 25% Thai customers, 20% European customers, 19% Japanese customers, 18% Asian customers (excluding Thailand and Japan), followed by 10% of customers from China and 8% of customers from the US. Of all WHA Logistics customers, 75% are international customers.
WHA Logistics also has a variety of customers who are business operators, including 3PL (Third Party Logistics). These intermediaries manage the distribution of goods and transportation, accounting for 40% of WHA customers, and the most common type of customers. Following that is FMCG (fast moving consumers goods), consumer goods and healthcare business at 24%, manufacturers at 21%, e-commerce at 14%, and others at 1%.
WHA Logistics' Expertise in Location Selection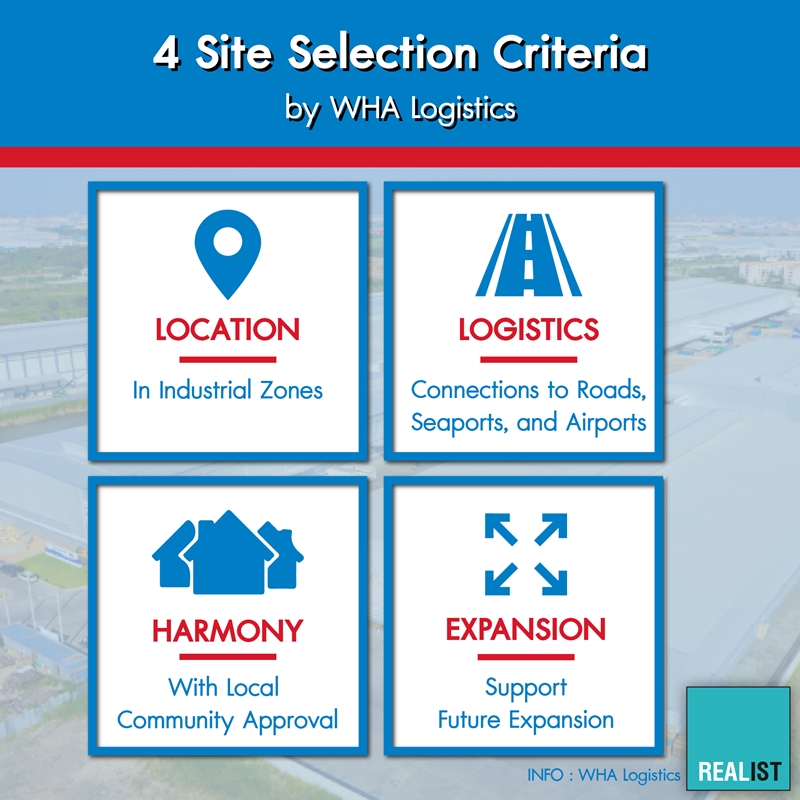 WHA Logistics specializes in project location selections that leading customers have trusted for over 18 years. WHA Logistics will select the location close to the industrial zone because this location is close to supplier manufacturers and customers. It is also a convenient location for import-export of goods with connections to roads, ports, and airports. In addition, this type of location is beneficial in terms of the speed of logistics transportation, which helps reduce costs for clients.
Besides convenient transportation, WHA ensures that the location must be agreed upon and mutually beneficial to the local community. Furthermore, it takes into account future opportunities for expansion.
WHA Logistics has Projects in 50 Locations
With over 18 years of project development experience and more than 200 leading customers, WHA Logistics not only has project locations across Thailand but has also expanded its business to other countries where the domestic industry has high potential. WHA Logistics has as many as 50 factory and warehouse project locations in Thailand and abroad.
With a total of 49 projects in Thailand in 14 provinces, the total area under the management of WHA Group is more than 2.5 million sq.m. Across the five regions, the number of projects is divided as follows:
Northern region: Lamphun – 1 project
Central region: Bangkok – 5 projects, Nonthaburi – 1 project, Ayutthaya – 4 projects, Pathum Thani – 1 project, Samut Sakhon – 1 project, Samut Prakan – 16 projects, Saraburi – 4 projects
Northeastern region: Khon Kaen – 1 project
Eastern region: Prachinburi – 1 project; Provinces in the EEC, including Chonburi – 5 projects, Rayong – 7 projects, Chachoengsao – 1 project
Southern region: Surat Thani – 1 project
Most of the projects are in the central part of Thailand, in Bangkok and the Eastern Economic Corridor (EEC) area, with 34 locations representing 68% of total projects. One project abroad is a built-to-suit warehouse for rent with 25,688 sq.m. in Banten province, West Jakarta, Indonesia.
Bangna-Trad: A Strategic Location for Logistics Centers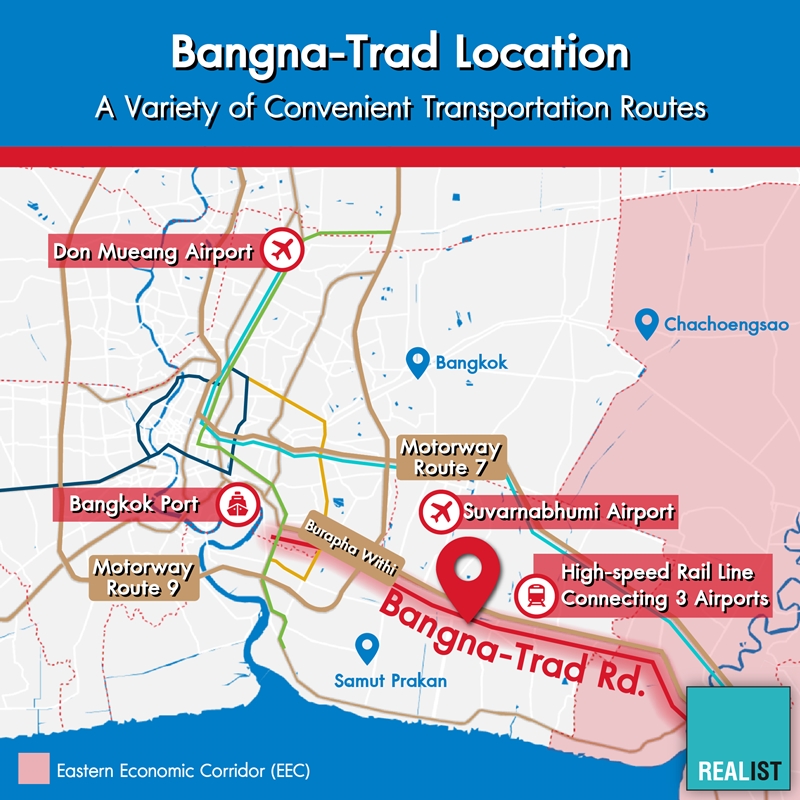 Bangna-Trad has a variety of convenient transportation routes. Bangna-Trad Rd connects to many highways such as Srinakarin Rd, Sukhumvit Rd, Kanchanaphisek Rd, Udom Suk Rd, Chaloem Phrakiat Rd 9, On Nut Rd, Phatthanakan Rd, and Ramkhamhaeng Rd. It is also convenient to travel into the city close to expressways, for example, via Burapha Withi, Motorway Route 9, and the Eastern Bangkok Outer Ring Rd.
The Bangna-Trad strategic location is close to Bangkok and the EEC area, so it is a potential location for logistics. Connecting to Don Mueang Airport, Suvarnabhumi Airport, Bangkok Port, the EEC area, and the high-speed rail line connecting three airports, the variety of transportation routes from Bangna-Trad makes it a strategic location to transport goods quickly and reduce the cost of transportation itself.
WHA Logistics has 16 Projects in Bangna-Trad and Theparak Locations
Bangna-Trad is a strategic location for logistics. It is close to Bangkok and the EEC area and various routes, making it easy to travel with good transport connections. WHA Logistics has foreseen the site's potential in logistics and developed 16 factories and warehouses in this location, including this newly opened WHA Mega Logistics Center Theparak KM. 21, the largest logistics center in this area.
Newly Launched Project! WHA Mega Logistics Center Theparak KM. 21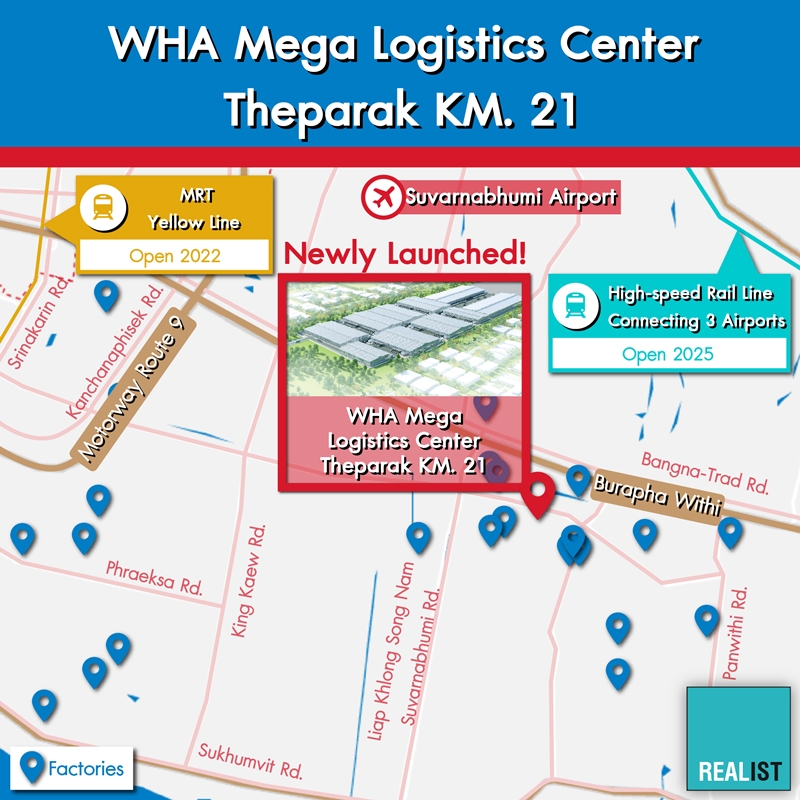 With the potential of its logistics location, WHA Logistics has launched a new project, WHA Mega Logistics Center Theparak KM. 21 in Bangna-Trad. The new center is on Theparak Rd and connects to many transport routes such as Bangna-Trad Rd, Srinakarin Rd, Kanchanaphisek Rd, Phraeksa Rd, King Kaew Rd, and Sukhumvit Rd.
In addition, there are also development projects such as the MRT (Mass Rapid Transport) Yellow Line expected to open in 2022 and the high-speed rail linking three airports scheduled to open in 2025. Once ready for services, these projects will make transportation more convenient and are surrounded by many factories. This offers the possibility that they will also be WHA's future customers.
WHA Mega Logistics Center Theparak KM. 21: The Largest Area in This Location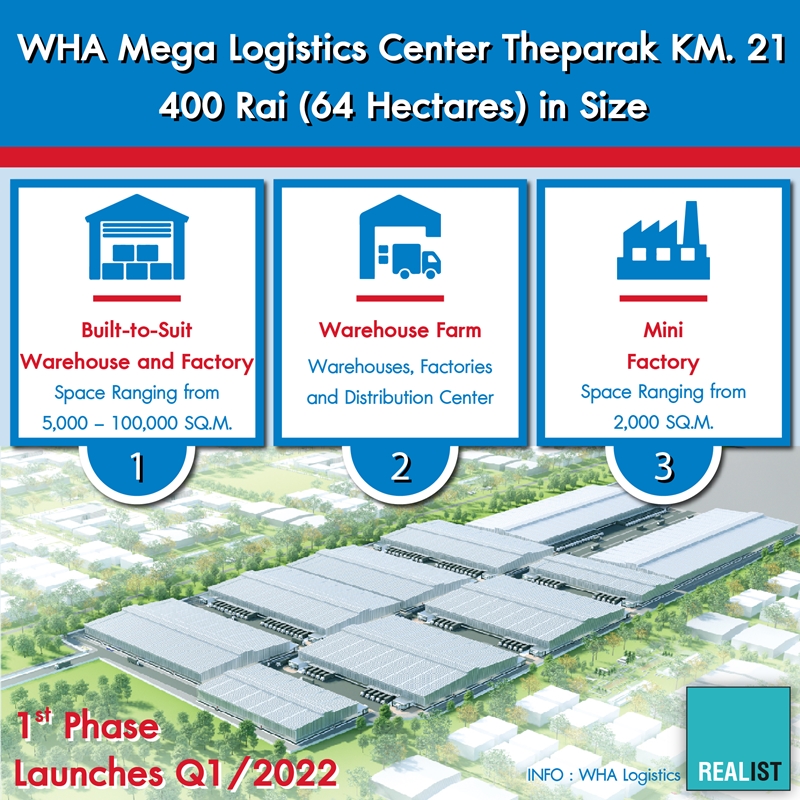 WHA Mega Logistics Center Theparak KM. 21 is a new project with a large area of 400 rai (64 hectares) consisting of:
Built-to-Suit Warehouses for Rent with areas ranging from 5,000–100,000 sq.m.
Warehouse Farms consists of a warehouse, factory, and distribution center.
Mini-Factories, with areas from 2,000 sq.m.
WHA Mega Logistics Center Project Theparak KM. 21 launches its first phase in the first quarter of 2022.
Ready to Support Smart Logistics, Innovations, and New Technologies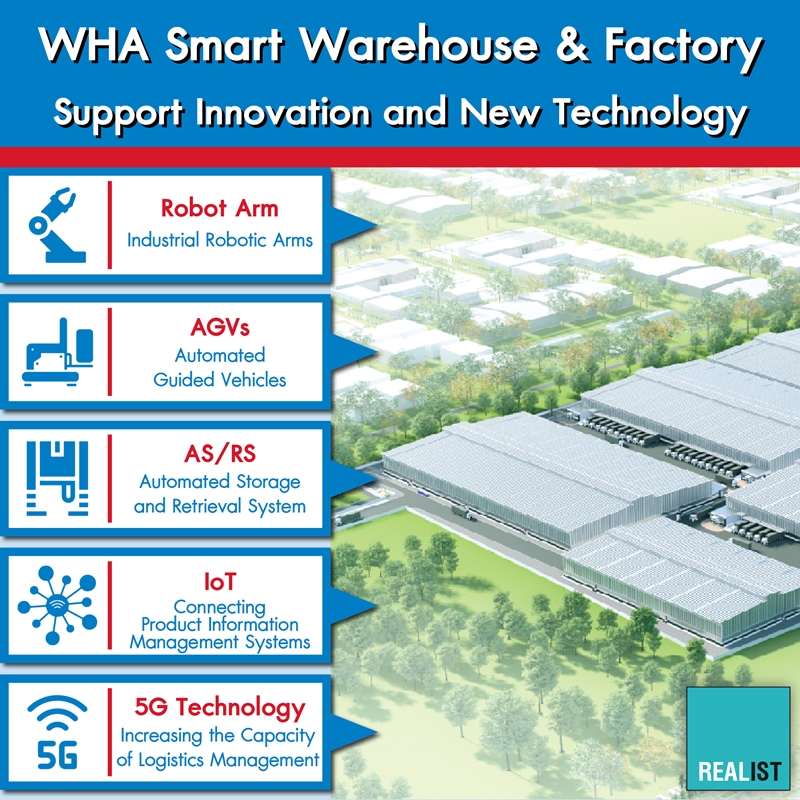 WHA Smart Warehouse & Factory is ready to support smart logistics, innovations, and new technologies to meet customers' needs
These innovations and new technologies include, for example, the robot arm, automatic guided vehicles (AGVs), automated storage and retrieval systems (AS/RS), the Internet of Things (IoT) that connects the product information management system, and 5G technology that increases the capacity of logistics management.
WHA Logistics Pioneering Built-to-Suit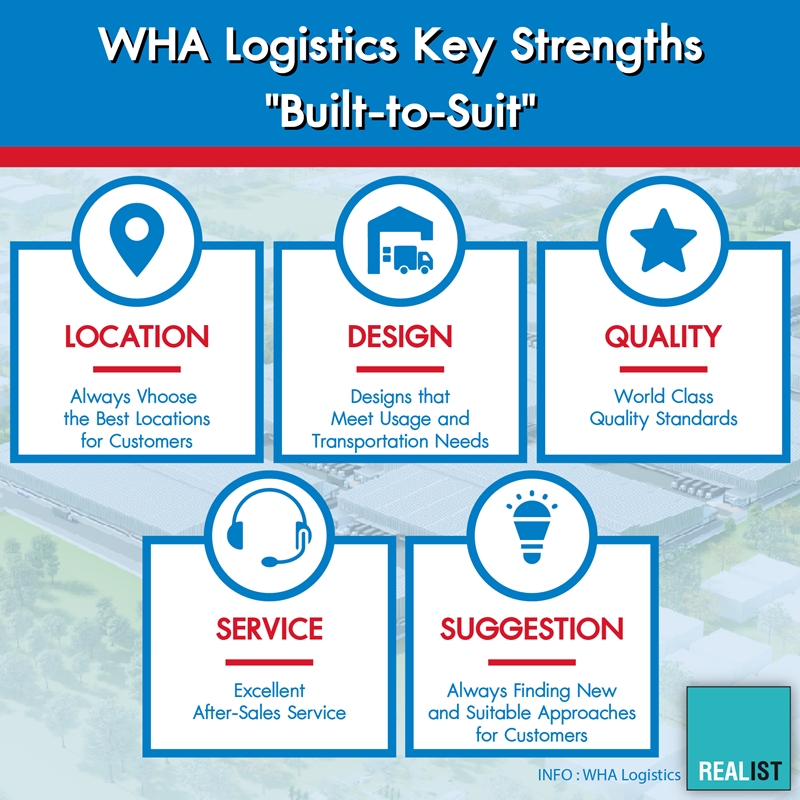 The key strength of WHA Logistics is built-to-suit. Its overall planning and design allow WHA to meet its customers' highest requirements and support business expansion in the future.
WHA Logistics will recommend the best location to suit the customer's business, design a factory or warehouse adapted to its use and logistics needs. Customers can trust WHA's world-class quality standards from WHA Logistics and attentive after-sales service, always ready to help find new and suitable solutions for customers.
WHA Mega Logistics Center Theparak KM. 21: Newly Launched in Bangna-Trad area, near Bangkok and Gateway to the EEC
For more details, please contact 02 719 9555 or Line ID: @wha-logistics
Note: This article is published on Realist's website on 27 December 2021.